How the game industry has grown in the Stockholm region
The Swedish game industry has grown rapidly in recent years, developing from a hobby for enthusiasts into a culturally and economically significant global industry.
In Stockholm, some of the world's biggest game companies rub shoulders with creative start-ups at the cutting edge of game development. And the sector is flourishing: more than half of the Swedish game companies currently active started life after 2010.
This flurry of innovation is also reflected on balance sheets. Total revenue for Swedish game companies increased to EUR 2.29 billion during 2019, a 23% increase compared to 2018. Most companies are profitable and the sector as a whole has reported profits for eleven years running.
Thanks to the explosive growth in recent years, game companies in Sweden now number 442. Around half of the companies are start-ups founded within the last five years.
In all, 222 of the companies are incorporated in the greater Stockholm region, also known as the Stockholm Business Alliance (SBA), a partnership of 56 municipalities. The focus of the partnership is to attract foreign direct investment and international talent to the region.
Jump to:
How many people work with games in Sweden?
Of the game companies with more than 50 employees, 13 out of 16 are based in Stockholm. On average game enterprises in the greater Stockholm region employ 19 people compared to a mean value of 14 nationally.
Game industry employees (Sweden): 5,500
Game industry workers (Stockholm): 3,500
The number of game industry employees in Sweden has grown by 50% from 2016-2019. It is also worth noting that the figures are based on full-time positions at limited companies. The actual number of people working in the games industry rises to 8,500 when consultants, part time workers and employees at non-limited companies are taken into account.
Stockholm games ecosystem
The Stockholm games industry is evolving fast. Here's a snapshot of the state of play in May 2019.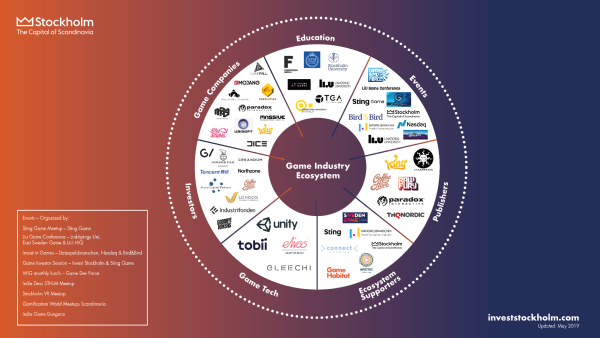 View full-size image
Jenny Berthling
Business Development Manager
Phone: +46 (0)8-508 28 008
Mobile: +46 (0)7047 28 008
What gives Stockholm its unique competitive edge?
One of the strengths of the Swedish game industry is its broad range.
The city is home to leading global companies creating games on all major platforms. Examples include, on mobile - King, Rovio Stockholm; PC and console - DICE, Avalanche Studios; VR - Resolution Games, Fast Travel Games.
Swedish game developers are quick to adapt to new technologies like VR and AR, and are accustomed to working with different business models. In Stockholm alone there are six game companies with an annual revenue over EUR 100 million and a majority of the game companies in Sweden are profitable.
With a population of 10 million, Sweden is a relatively small domestic market. Consequently, Swedish game developers make games directly for the global market.
A strong ecosystem helps foster new game developers: some of the world's best game development schools are located in Sweden. Notably, Sweden has the highest number of incubators in the Baltic Sea region that focus fully on games. Sweden has eight games incubators in all, two of which are based in the Stockholm region: Sting Game and East Games. These incubators partly explain the high number of start-ups founded in recent years (Swedish Game Developer Index 2020).
There are also events for independent game developers, which contribute to the creativity of Swedish game developers, such as No More Sweden, Stugan, and Castle Game Jam.
Incubation and start-ups
Stockholm based Sting is a traditional business incubator. Founded in 2002, it has since provided business development support to over 200 innovative start-ups in different verticals. In 2017 Sting launched a new initiative to support game start-ups and game-related technology start-ups. Game companies accepted into the incubation program receive access to a game business coach and a network of expert mentors. Additionally, Sting Game runs a small co-working space for independent game developers and organizes monthly meetups for the community of game developers in Stockholm.
East Sweden Game
A hub for game developers in Linköping. East Sweden Game offers a free co-working space for students and early stage game companies, and an office space for established game companies. Members of the community get access to business coaching and advisory services from associated partners. East Sweden Game organizes regular meetups for local game developers. In May 2018 they opened an accelerator for game developers.
East Sweden Game also distributes a newsletter in collaboration with Invest Stockholm for game studios looking for publishers or investors. Sign up below!
Publisher Newsletter
Funding and Investment
Venture capital funds have traditionally been cautious about investing in game start-ups. But with success stories mounting up, this is starting to change.
An upsurge in investment is being fueled by a number of highly successful game industry entrepreneurs who have become angel investors with a games focus.
Another sign of industry confidence is reflected in how many senior people at big companies are leaving to form their own game studios. With industry veterans on board, these start-ups are in a better position when looking for funding.
From the investor perspective, many buyers have cited intellectual property as a driver behind investment in Swedish game companies. More than 60% of major transactions since 2015 have been rooted in the buyer's interest in the seller's IP.
In 2019 the Swedish market saw 39 reported investments and acquisitions at a total value of more than EUR 400 million. In 29 of these transactions, a Swedish company was the buyer. From January to October 2020 investments and acquisitions in 21 firms on the Swedish market topped EUR 1 billion. (Source: Game Developer Index 2020)
Public funds focusing fully on game companies are virtually non-existent. However, game start-ups can qualify for general public start-up support. Pulbic funds often assess companies based on the level of innovation, which can be a complex metric for game companies to quantify. In practice, game start-ups often need to display added value in the form of, for example, a diverse team, a focus on education/health.


Selected funding sources, and who can apply:
Creative Europe (Kreativa Europa)
Who: cultural and creative European production companies. To qualify, games studios need to have produced a commercially distributed video game in the past two years
Almi business loan (Almi Företagslån)
Who: companies with up to 250 employees in all industries
Who: Driven entrepreneurs with business ideas that can build future growth companies, across a broad range of industries. The company has to be new (up to 6 years old) or in an early expansion phase; the business idea should be scalable, innovative and meet a large customer demand regionally or nationally. It is also an advantage if the company's innovation has international growth potential.
Who: Companies in the Information and Communications Technology and Digital Media sectors.
Who: 'Companies of tomorrow' powering innovation in different sectors
Who: Independent game studios
Early stage tech and games start-ups
Tech/ICT in Stockholm