Join Stockholm Tech Week for a transformative deep-dive in innovation this September
Stockholm is a world-leading tech and innovation hub, attracting some of the best talents in the world. In the past ten months, Stockholm gave birth to new unicorns and saw large exits. First through Spotify's IPO, then the acquisitions of iZettle and Bambora, the world's attention has been drawn to the capital of Scandinavia for all the right reasons. During the first weeks of September, we're given the opportunity to connect with the early starters and innovators of tomorrow through 14 conferences and 50+ events throughout the city.
Stockholm - The home of eSport
DreamHack Masters comes to Stockholm, and this is the first edition to be hosted in the city. DreamHack Masters Stockholm 2018 is planned to take place September 1-2, with a group stage to be held before the main event between August 29 – 31.
To date DreamHack Masters has hosted three editions of the tournament series, including some of the most memorable esports events of all time. Those include Ninjas in Pyjamas winning with the ultimate underdog story on home soil at DreamHack Masters Malmö 2016, as well as Virtus.pro taking home an explosive victory at DreamHack Masters Las Vegas 2017.
"We are tremendously excited to head to Stockholm with DreamHack Masters," said Marcus Lindmark, CEO and President of DreamHack, "Stockholm is the home of the DreamHack headquarters, and Stockholm Live has some of the best facilities available globally, so we are going to have everything at our fingertips to produce the best eSport event and experience possible, for both viewers onsite and online".
Stockholm has a rich history in eSports and has for many yearsbeen the go-to location for either getting the proper training or breaking through. The legacy dates back to the old guard and the early days of eSports, today the city is home to both Major champions, current and past, and new-born stars. Thus far all editions of DreamHack Masters have featured Counter-Strike: Global Offensive as the main title, prize pools of $250,000 or more, and 16 teams competing live for the prize. During 2016, DreamHack had 233,000 visitors to its events and more than 135 million viewers who followed the live broadcast online.
"It feels exciting and natural that DreamHack chooses Stockholm as a host city. Stockholm is one of the world's most important tech cities, and we have established ourselves as a prominent event city. We have a long tradition of esports that we are now building on", says Karin Wanngård (S), Mayor of Stockholm City.
Along with the conference, Sweden's first eSport gala, Stockholm International eSport Awards, will also take place, celebrating the greatest eSport stars of the year.
#SthlmTech
Since 2013, the Sthlm Tech crew led by Tyler Crowley, have been organizing events where entrepreneurs and geeks, such as the monthly Sthlm Tech Meetup and the yearly Sthlm Tech Fest. The future of design, IoT, games, diversity, food, and security are some of the topics that the impressive line up for this year's edition of the Sthlm Tech Fest, taking place 1-4 September, will be talking about at the Waterfront Congress Center. This year also sees an exciting collaboration with me Convention for the second edition of the highly appreciated Tech Safari, where participants are invited to a full-day tour of the Stockholm tech ecosystem.
Mixing old and new
The tech scene in Stockholm is continually growing and a newcomer this year is the me Convention. Stemming from a collaboration between Mercedes-Benz andSXSW, one of the world's leading music festivals and tech event, this unique conference offers visitors the chance to hear from global leaders and pioneers across art, music, technology, and science. 100+ speakers will be talking about recent developments within five essential topics: New Society, New Leadership, New Economies, New Creativity, and New Bionomics.
The conference will take place from September 4-6 at the stunning Nacka Strandsmässan, a 19th-century building which suitably once acted as a car factory.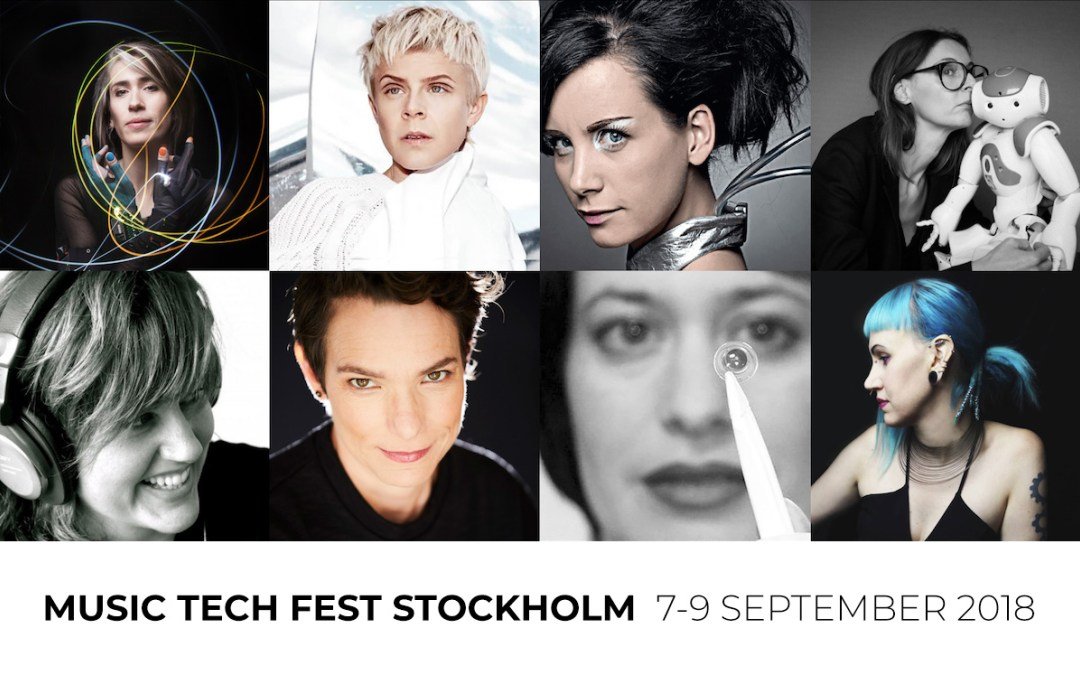 Music + Tech
After five years as a nomadic festival with ten major events all over the world, Music Tech Fest will take place between 3-9 September at KTH Royal Institute of Technology in Stockholm. It´s the first multi-gender innovation event that puts women at the head of every technology area and features 50 percent women on stage, and across every single technology area of the festival.
Bringing together AI, Robotics, Neuroscience, Data, Fashion Tech, VR, Blockchain tech and much more in a unique and hands-on way, this diverse and inclusive festival will feature the top creative minds from all industry and academic sectors with a view to inspiring other women to get involved both now and in the future.
"We can't afford to miss out on any intelligence or perspectives, which is why Music Tech Fest is 50 percent women. We believe that if more women were in charge of decision-making, the world would be a richer and fairer place; and that when women are at the forefront and more visible in the mainstream of technology, we can create the tools to make this better world possible,"said Andrew Dubber, Festival Director at Music Tech Fest.
In its second year, Gather Festival is also combining music and complex issues. With their tagline, "not your average conference or music festival", their mission between 13-15 September, is to investigate society and its future, embrace complexity and burst filter bubbles to offer inspiring and unexpected experiences for the curious minds. Gather Festival hosts 50+ of the most exciting speakers and 100+ artists at 15 different venues and 15+ innovation labs.
Health Tech
In Stockholm, the most creative minds from healthcare, life sciences, ICT, and gaming are shaping a new generation of digital solutions with the potential to transform healthcare on a global scale. The needs are enormous and Stockholm is the hub for Digital Health Innovation.
Nordic Life Science Days, is the largest Nordic conference dedicated to the life science industry. Since its inception in 2013, the event has nurtured a community of people from the world of life science and created a unique place to do business.
Designing for the future
There is no shortage of options for the design geeks. For example, the Frontiers conference celebrates the marvels of design and innovation. During one day, August 31st, the participants will inhale inspiration, exchange ideas and discover new frontiers, guided by a rare mash-up of international changemakers, masterminds, and explorers.
Also, Nordic.design & Nordic.js are single-track conferences, taking place between 5-7 September, where you can learn about the latest in JavaScript and connect with other passionate developers, or explore UX, UI, design tools, workflows and more. Both conferences feature talks by internationally renowned speakers and rising stars in the design and JavaScript community.
Swift & Fika is a new single-track conference taking place in Stockholm on the 9th and 10th of September. They´re all about Swift, mobile development, and cozy fika breaks.
Marketing
Continuing on the more niche conferences, MRMW (Market Research in the Mobile World) is the largest and most prestigious global conference series focusing on mobile, innovation and high-tech marketing research. Trusted by over 5,000 participants around the world, MRMW conferences are considered the industry's gold standard and must-attend events for market research professionals every year. This year's edition will be hosted in Stockholm, 4-6 September.
The Crypto Movement
The Blockchain & Bitcoin Conference Stockholm is a highly anticipated crypto event in Sweden, part of the series of Blockchain World Events held in 25 countries, bringing together the international business community to share experiences of integrating blockchain and cryptocurrencies. The speakers include world-renowned blockchain experts, government officials, foreign investors, entrepreneurs, lawyers, and developers. A perfect place for discussing blockchain industry issues and finding ways to solve them.
Dressed to impressed
The tech scene is known for a more casual dress code. Although we might see some fancy attire during the parties and galas, nowhere will it get more dressed up than at Comic Con Stockholm. The Nordics' most exciting pop culture show and the only show in Sweden that brings together such a broad scope of popular culture categories including Movies, Gaming, Comics, Television, Youtube, Cosplay and much more.
Comic Con Stockholm aims to put on the best consumer shows for the modern pop culture market, with show floors that are packed full of activities from cosplay celebrations to experiential opportunities inspired by the movies and brand new releases of the most popular games.