Why the future is Brite for instant payments
Lena Hackelöer sometimes jokes that Stockholm selected her: in 2010, the then fledgling Klarna asked the German marketing expert to move from Paris to help coordinate their outreach efforts. Multiple executive positions and one IPO later, she has combined her passion for marketing with extensive product skills to lead a fintech company tackling difficult but crucially important international payment challenges.
"It wasn't my intention initially to stay in Stockholm but I was able to integrate quickly. Back then, Klarna was vacuuming European tech talent into the city, and as all of us were new to the Swedish capital and faced the same challenges, we supported each other and have stayed friends until today," says Hackelöer.
"When comparing with Paris or Berlin, I found Stockholm to be exceptionally welcoming - not least because most Swedes are perfectly happy to speak English, the city has impressive quality of life and the booming tech scene offers a wide range of long-term career opportunities"
"Stockholm was a natural choice, primarily due to the talent pool."
As co-founder of Brite, Hackelöer has embarked on a journey to revolutionize a subsector of payments in fintech. Instant payments, and especially payouts, across Europe have been a missing crown jewel of the payment ecosystem for years which others have either overlooked or purposefully avoided due to regulatory headaches.
The network formed during her time at Klarna, and later as CEO of Qliro, allowed her to lay the foundations for her current venture. Stockholm's excellent talent base, high mobile penetration and a broad range of know-your-customer solutions all convinced her to launch Brite in Sweden.
"Stockholm was a natural choice, primarily due to the talent pool. There are a lot of highly skilled fintech profiles in the city and as a second-generation challenger our success depends on moving fast and avoiding mistakes we've all made at previous ventures. Getting access to that level of expertise is key for us."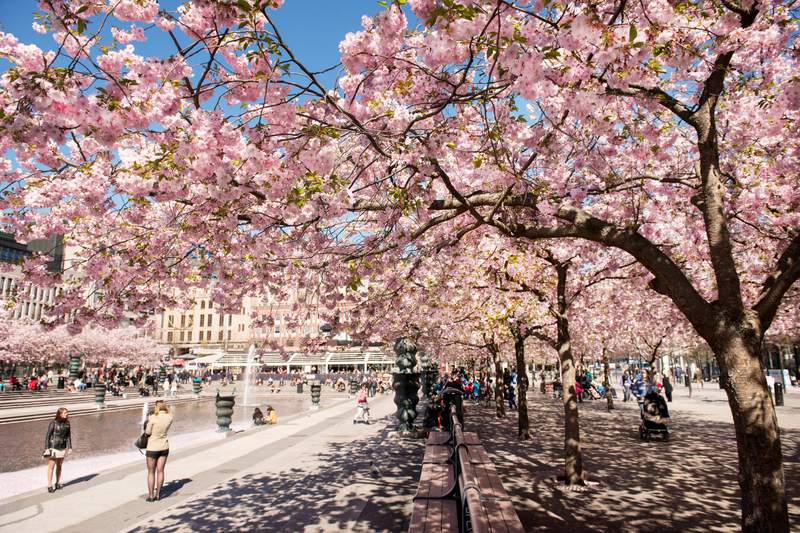 Cecilia Larsson Lantz/Imagebank.sweden.se
Immediate payouts to consumers and businesses
With a high-end team sourced from Sweden's recent generation of fintech giants, Brite has focused on a solution that enables account-to-account payments built on banks' Open Banking APIs. Unlike other instant payment services, Brite has deliberately honed in on creating solutions that sidestep payment initiation services (PIS) and national systems that slow down transfers.
For consumers, this means for example that an insurance company can make a near-instantaneous emergency payout for a flooded home instead of having to wait for the next business day -- at best.
For e-commerce businesses with narrow margins Brite means they no longer have to wait for providers to release bulk payments that are traditionally held for a period in 'rolling reserves' or 'hold banks'. Lena Hackelöer and her team spotted an opportunity when they realised that holdback rates were causing liquidity and cash-flow issues for e-commerce companies dealing with hundreds of millions of SEK worth of transactions.
"By tapping into the potential of open banking and thanks to an experienced team, we have quickly been able to launch our full offering in Sweden, Finland and the Netherlands, and make our payout solutions available across a total of 20 European markets."
"Stockholm is unique in being able to combine the talent pools from fintech and gaming."
As she has grown the business Hackelöer has developed a reputation for tapping into recruitment potential from unexpected areas. For example, she was quick to spot the talent available in gaming, one of Stockholm's most innovative industries alongside fintech.
"Motivating talent from areas like gaming to join our fintech world has clearly spiced up our offering. Stockholm is unique in being able to combine the talent pools from fintech and gaming. Connecting gaming to fintech is what Stockholm is all about: overcoming innovation silos and finding unique ways forward to do something extraordinary."
And Lena Hackelöer is already well on her way to doing something extraordinary. Following in the footsteps of runaway success stories like Klarna, Trustly and iZettle, Brite now has its sights set on becoming Stockholm's next fintech unicorn.
Article contributed by Michal Gromek and edited by Invest Stockholm.
Interested in learning more about opportunities on the Stockholm fintech scene? Please contact Jenny Berthling.